Portsmouth new main road layout plans submitted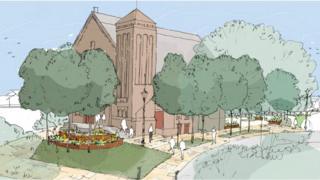 Plans have been submitted for a new road into Portsmouth city centre which would allow the area to be redeveloped.
The £60m road project would divert the main arterial route into the city.
Council leader Donna Jones previously said wanted land unlocked by the scheme to be used for "beautiful, striking tall buildings", creating "an almost New York-type skyline" for the city.
The plans have been amended following a consultation to improve cycle routes and access to Victory Retail Park.
Portsmouth City Council has already bid for government funding for the scheme which would divert traffic from the M275 through new junctions.
The authority is expecting to pay about a quarter of the cost and hopes the government will pay the rest.
Ms Jones said: "Once we have completed the planning process we will have a viable scheme and that will make our project much more attractive to government."
Under the scheme, the Commercial Road roundabouts would be replaced by traffic light junctions in a bid to reduce congestion.
The council said creating the new route would unlock private sector development land which had the potential to bring hundreds of millions of pounds-worth of investment and create thousands of jobs.
A plan for a £500m redevelopment of Portsmouth's Northern Quarter, incorporating the Tricorn Centre site, which had been in the pipeline for more than a decade was scrapped last year.