Portsmouth arts centre boss guilty of police assault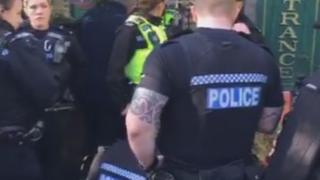 An arts centre founder has been convicted of assaulting two police officers during an eviction.
Mark Lewis, 49, was also found guilty of possessing cannabis and using threatening behaviour during the eviction at the former Arts Lodge in Victoria Park, Portsmouth, in February.
He was ordered by Brighton magistrates to pay £200 in compensation and to carry out 120 hours of unpaid work.
His partner Alison Brett, 52, was cleared of assaulting an officer.
Portsmouth City Council said it had reclaimed the property after giving Mr Lewis more than eight months' notice his lease was being terminated.
In a statement it said: "We had asked for the keys to be returned because renovations to the lodge were due to get under way shortly.
"We had hoped to avoid any confrontation and resolve it amicably but two female members of staff felt aggressively threatened and had no choice but to call the police."
Mr Lewis said he had thrown a table to make a barricade, accidentally injuring one policeman.
He said he had been "devastated" to lose the centre after running it for 17 years.
The Victorian lodge now being run by the Society of St James charity on a five-year lease to provide a café offering work and training for vulnerable adults.