Hayling Ferry 'running out of money'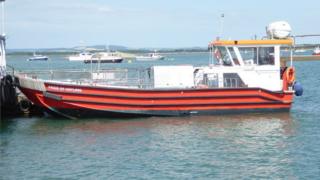 Money donated to support a revived ferry service will run out in March, fundraisers have said.
Campaigners raised more than £20,000 to relaunch the Hayling Ferry, between Portsmouth and Hayling Island, in August 2016 after it closed in 2015.
Clare Satchwell, from the Hayling Ferry Trust, said the money, from businesses and public donations, was nearly gone.
Ferry operator Baker Trayte Marine said it might have to reduce services in the winter months.
The boat's skipper Colin Hill said the business was losing about £250 a day between November and March.
He said the ferry took just £14.50 in fares on Tuesday.
Tim Trayte, from ferry operator Baker Trayte Marine, said the service "nearly broke even" after making a healthy summer profit.
He said: "We wouldn't close it but possibly reduce it over the winter months."
Mr Hill said the main problem was poor transport links to the ferry terminals.
He said: "Buses stop half a mile away on the Portsmouth side and 1.5 miles away on Hayling.
Campaigners, who met on Thursday, agreed to seek sponsors for the boat and to pursue talks with bus firms.
Hampshire county councillor Lance Quantrill said the "very positive" meeting also decided to ask the authority to consider reinstating a subsidy for the service.
Previously the council said it could no longer justify an annual subsidy after giving the ferry £71,000 in 2014.
The three-minute ferry ride avoids a 16-mile road journey between Hayling and Eastney.
The 200-year-old service ceased for 17 months in March 2015 when its previous operator went into administration.