Vegan parent complains about Lymington school's pigs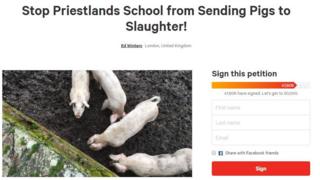 Four pigs being reared for meat at a rural school have been sent back to their original owner after a vegan parent complained.
Priestlands School has kept animals at its site in Lymington, Hampshire, to teach pupils about farming for the past 10 years.
However, a petition calling for them to be saved had been signed more than 41,000 times by Tuesday afternoon.
The school said it had always been "open" about the purpose of the pigs.
Animal rights campaigner Ed Winter, who launched the petition, said a vegan parent had contacted him after "begging" the school to send the pigs to a sanctuary.
He said: "In 2018 we should be teaching children compassion towards animals.
"The school has made students and parents uncomfortable, by discriminating against their beliefs by condemning these pigs to death."
He added that the pupils have "never had a say in the matter" and claimed they were not being given "an objective education with both sides of the story".
Head teacher Chris Willsher said the secondary school decided to send the pigs back to the farmer who gifted them following the complaint and before the petition was launched.
He said pigs had been "well cared for" in a walled garden since 2008, and that it was made clear to students that they would be slaughtered and were "not pets".
"Indeed they are sold as Priestland's Porkers to staff, to the local community through butcher's shops and are served in the canteen with students knowing very clearly that they are sausages made from our pigs," he added.
Mr Willsher said sending the pigs back to the farm would allow time for a consultation on the future of the school's policy, and that he respected the views of vegans.
"We are not campaigning for meat eating, we are simply wanting children to learn about where their food comes from," he added.