Ferrari death crash driver 'sorry' over seatbelts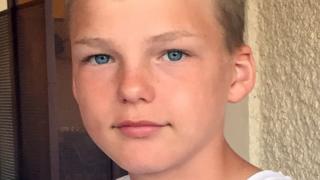 The driver of a £1.2 million Ferrari involved in a crash that killed a 13-year-old boy has apologised in court for not asking him to wear a seatbelt.
Alexander Worth, from Kings Worthy, Hampshire, died in August 2016.
Businessman Matthew Cobden told Winchester Crown Court he believed there was a fault with the Ferrari F50 causing a sudden increase in power when he touched the accelerator.
Mr Cobden denies causing death by careless driving.
The jury previously heard that Mr Cobden, of Walton-on-Thames, Surrey, had offered Alexander a ride in the Ferrari when the teenager visited his car storage business with his mother and her partner.
The supercar flipped after hitting a post beside a farm access road, throwing both Alexander and Mr Cobden from the vehicle.
The teenager was pronounced dead at the scene. Mr Cobden suffered a fractured rib and a punctured lung.
Fighting back tears in the witness box, Mr Cobden was asked about why neither he nor Alexander were wearing seatbelts.
He replied: "It's something I think about all the time. If I had done, things could have been different."
Describing the crash, he said: "I put my foot on the accelerator and it goes. Next thing I'm not in the car.
"If I could have done something I would have done something, that's what frustrates me the most."
The court previously heard independent Ferrari expert Aldo Riti give evidence that he believed the car had a pre-existing fault.
The defence expert witness said he believed the car started with only six cylinders working because of the fault and then the other six had cut in - leading to an increase in power.
Prosecution expert witness Tony Ciccone, an engineer from Ferrari, was asked if there was any evidence the car had a problem switching from six to 12 cylinders before the crash. "Not from what I saw," he said.
The court heard the Ferrari had recently had a £52,000 service and overhaul.
The trial continues.