Wildlife warning over Bolton's Bench sledging debris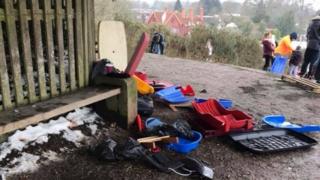 Rubbish left by sledgers enjoying the snow at a New Forest beauty spot could have endangered the area's wildlife, the Forestry Commission has warned.
Pictures on social media showed discarded plastic sledges, boogie boards and other debris at Bolton's Bench in Lyndhurst.
Local volunteers collected two large grab bags of rubbish from the landmark.
The commission said it was "upsetting" and endangered livestock that grazed in the area.
Bolton's Bench - a hill topped with a distinctive yew tree - is one of the best-known landmarks in the New Forest National Park.
The hill became popular with children as a sledging site while schools were closed on Thursday and Friday.
Parish council chairman Mark Rolle said he was "horrified" when he saw the scene after the snow receded on Saturday.
"It's such an iconic part of the village and such a visible beauty spot, but our main fear is that a pony could injure themselves."
Following an appeal on social media, a group of nearby residents removed the rubbish.
Mr Rolle said they filled two large grab bags with "all sorts" including a car windscreen, baking trays, palettes and plastic bread crates.
A spokeswoman for the Forestry Commission, which owns the land, said: "It's upsetting that there are a few individuals out there who choose to leave their rubbish, without thinking about the danger it poses to the ponies and cattle that roam freely across the New Forest.
"Despite everyone's best efforts to do their bit, every year, a number of forest livestock have to be put down because they have swallowed discarded plastic or metal left in the forest.
"We really appreciate the time and effort put in by local people who helped to clear away the rubbish left behind this weekend."