Portsmouth nightclub blaze sees 1,000 clubbers evacuated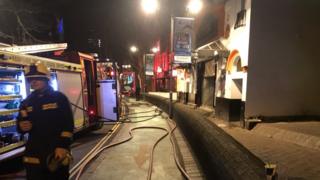 About 1,000 clubbers were evacuated after a fire broke out at a nightclub in Portsmouth.
The fire started in the ceiling above the dance floor at The Astoria, Guildhall Walk, at about 01:40 BST during its mid-week dirty disco event.
Police and door staff helped clubbers out of the three-storey building while fire crews put out the blaze. No-one was hurt.
The club said it opened at midday for people to collect their belongings.
The event is described on the venue's Facebook page as "probably the best mid-week club night in Portsmouth" featuring "stilt walkers and fire breathers".
Following the incident, the club posted: "Once again, thank you for everyone's assistance and patience."
Hampshire Fire and Rescue Service said the fire was believed to have started in ducting in a ceiling void above the dance floor.