Volvo Ocean Race yachtsman John Fisher 'was knocked off boat'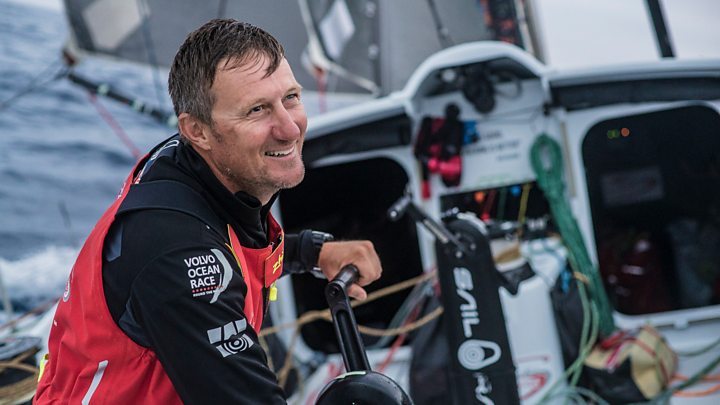 A yachtsman presumed lost at sea during the Volvo Ocean Race was knocked overboard after unclipping his tether to tidy up a line, his team has said.
John Fisher, 47, from Southampton, fell from Team Sun Hung Kai's Scallywag yacht in the Southern Ocean on Monday.
"This is the worst situation you can imagine happening to your team," said SHK/Scallywag team manager Tim Newton.
An "exhaustive search in gale force conditions" was carried out for several hours before being abandoned.
Mr Fisher fell from the yacht 1,400 nautical miles west of Cape Horn at about 13:00 GMT on Monday.
In a statement, the team said Mr Fisher was moving forward on the deck when he was knocked overboard by the mainsheet system, the mechanism that controls the yacht's mainsail.
As the yacht "surfed down a large wave", the sail swung across the boat in a so-called "accidental crash gybe" and Mr Fisher was knocked off the boat.
"The crew on board believe John was unconscious from the blow before he hit the water," the statement added.
'Absolutely heartbroken'
The crew dropped two buoys but "took some time to get the boat under control" and return to the buoys' position.
They found no sign of either buoy or Mr Fisher, who had been wearing a survival suit and a lifejacket.
Mr Newton said: "We are absolutely heartbroken for John's family and friends. I know for David [Scallywag skipper David Witt], he has lost his best friend. It's devastating."
Mr Fisher was taking part in the 45,000-nautical mile Volvo Ocean Race for the first time.
In a previous statement, the Volvo Ocean Race organisation said: "Given the cold water temperature and the extreme sea state, along with the time that has now passed since he went overboard, we must now presume that John has been lost at sea."
The crew faced "challenging conditions" and a "building sea state" over the next few days as it headed for Brazil, the team said.