Bramley Camp rally death pair 'hit tree at 75mph'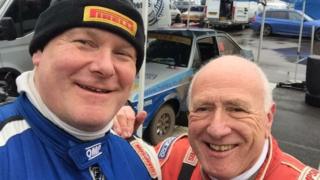 A rally driver and his navigator died when their car hit a tree at about 75mph (120kmh), an inquest has heard.
Driver Shawn Rayner, 52, from Windsor, and 64-year-old navigator Steve Dear were killed in a race at Bramley Camp, Hampshire, on 29 December 2017.
Mr Rayner and Mr Dear, who was a "one-off" substitution, suffered chest and head injuries and died instantly.
Senior coroner Andrew Bradley recorded a verdict of accidental death at a hearing in Basingstoke earlier.
Mr Dear, from Wokingham, had replaced his son Declan who had been unable to take part in the race.
Mr Rayner's MK 2 Ford Escort became airborne after exiting a "big dip" on a straight unmaintained road, witnesses told the hearing.
Race official Roger Marchant said the car was about 3ft (90cm) off the ground before it hit the oak side-on with a "loud bang".
Tony Johnson, from Hampshire police, said the "colossal impact" wrapped the car around the tree "banana shaped".
The car's steering arm had probably been damaged on landing after the dip, making it "almost impossible" to control, Mr Johnson said.
Barry Guess, from Sutton and Cheam Motor Club, which organised the event, said he had warned drivers about the dip.
"I made a comment that even if they were driving a forklift they would go up in the air if they were not careful," he said.
Mr Bradley said he had heard evidence that the event was well organised.
He said the pair "died doing what they wanted to do, something that gave them pleasure and excitement".
After the hearing Mr Dear's son Declan, Mr Rayner's usual navigator, said he was "heartbroken" by his father's death.