Isle of Wight two-hour tip queues 'caused by weather'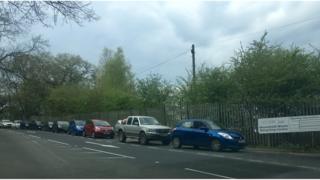 A "perfect storm" of good weather and roadworks have added to long queues at a waste tip, a council leader has said.
Drivers have waited for up to two hours to enter Lynnbottom Household Recycling Centre, Isle of Wight, after the island council reduced summer opening times.
The tip near Newport is now open for eight hours a day, compared to 13 hours in 2017.
Council leader Dave Stewart said he would consider partially reversing the cut if the problems continued.
The authority said on 18 April it had become aware of the "frustration" felt by tip visitors.
Resident Graham Stone said: "The shorter opening times are super-inconvenient unless you're retired or want to spend your weekends queuing with dozens of other cars."
Holidaymaker, Dave Johnson, said lengthy queues had forced his family to cancel a trip to nearby Robin Hill County Park.
The council has ordered a closure of the slip road leading to the tip before 10:00 BST, to discourage early queuing.
Councillor Stewart said: "We are told some people are sitting in their cars from 8:30 onwards - bear in mind it opens at 10 - with their flasks and their sandwiches to be first into the tip."
He said he would consider opening the tip two hours earlier at the weekend if the problems had not eased by the end of May.
"We want to find a sustainable approach within our budget framework," he added.
The council has advised people to visit at "quieter times such as between 15:00 and 18:00".