Boomtown Fair: Extra date added with transport rules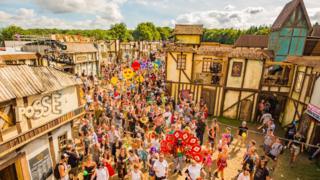 A music festival is set to open a day early, but only if crowds arrive using "sustainable transport".
Boomtown Fair is due to take place at Matterley Bowl, near Winchester, in August.
Organisers dropped plans to increase its capacity earlier this year after local residents raised concerns about the impact on transport.
The South Downs National Park Authority approved the extra day with stipulations on how attendees arrive.
The organisers had initially hoped to increase the capacity to 80,000, but a revised application for 60,000 and extending the event to five days was approved by Winchester City Council in February.
'Spread arrivals'
A further application to the South Downs National Park Authority to open a day earlier for a "limited number of attendees" was granted.
Those arriving on the first day have to arrive by coach, shuttle bus or in cars with more than three people in them.
A Boomtown statement said: "The festival is offering the limited Wednesday access to those who are choosing to arrive to the festival via sustainable transport".
"Being granted permission means that we can now implement measures to help spread arrivals out over two days and continue our work to reduce the disruption caused to the local community and make entry to the festival easier for everyone."
Some people reported fights, fainting and sunburn as they faced long delays entering last year's festival, with organisers blaming a technical glitch with the wristband system.
Eighty-two cars were destroyed when a lit cigarette ignited grass stubble in a car park at the festival in 2016.
The event is due to take place on 8-12 August, with Gorillaz and Limp Bizkit among the line-up.