Jamstand Ross-on-Wye festival 'must be cancelled'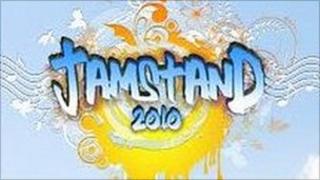 A free music festival cancelled in the summer cannot go ahead this weekend because licensing requirements have not been met, a council said.
Jamstand present Octoberfest was expected to take place on Caroline Symonds Gardens in Ross-on-Wye.
Herefordshire Council said organisers failed to advertise the event as required under the Licensing Act.
However, organisers blamed an "administrative technicality" and they are searching for a new venue.
Up to 5,000 people were expected to attend the original Jamstand festival on 13 and 14 August, organisers said.
'Sad news'
In its fourth year, this year's event would have been headlined by Ugly Duckling.
However, Herefordshire Council and West Mercia Police said the event could not go ahead because it needed a premises licence or temporary event notice.
Since then, the council said it had been working with organisers to ensure they met the licensing requirements for the renamed event on 2 and 3 October.
However, its licensing committee said it would now be illegal for it to consider the application at Wednesday's meeting.
'Everything in place'
Herefordshire Council's Paul Nicholas said: "This is very sad news for all those who had planned to attend the event and also for those who had committed to perform, but the organisers are responsible for their own actions and despite our best efforts to help them, they failed to comply with the law."
A spokeswoman for Jamstand said the team found out it had not complied with requirements on Monday night and has spent 24 hours searching for a pre-licenced venue, with a couple of acres of land.
"We have everything in place including stewards and marshals, fully fenced perimeter, refreshments and portaloos, generators etc and all acts are booked - we literally just need somewhere to hold it," she said.
The spokeswoman added organisers had worked closely with fire, police and other authorities but had simply made an administration error.