Ledbury man convicted of murdering friend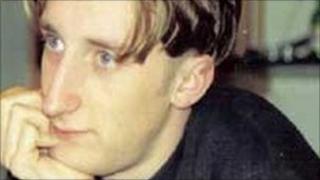 A man from Herefordshire has been convicted of murdering a friend in order to steal up to £12,000 he had recently inherited from his mother.
Shaun Stokes, 32, from Ledbury, was convicted over the death of Tom Holt, 36, whose body was found in the River Frome in October 2009.
The jury has so far failed to reach a verdict on Stokes's girlfriend Petra Stokes, 27, also charged with murder.
Shaun Stokes, of Hasnett Road, is due to be sentenced on Thursday.
The jury at Worcester Crown Court took nine hours to convict him of murdering Mr Holt, from May Hill, Gloucestershire.
Mr Holt's body was found after he had been hit over the head with a blunt object.
He was a heroin addict and knew the couple through his addiction, the court has heard.
Mr Stokes had used heroin and Ms Stokes, who changed her surname by Deed Poll to match her partner's name, used the drug occasionally, the court has been told.
The judge has told the jury he would accept a majority verdict on Petra Stokes, also of Hasnett Road.
As well as being charged with murder, she faces a lesser charge of assisting an offender by impeding his apprehension or prosecution.