Women warned of scam soldier dating sites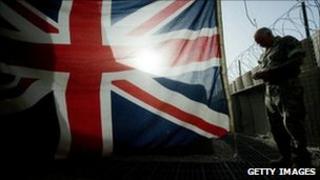 Women are being warned about an online dating scam involving men claiming to be British soldiers serving abroad and in need of cash.
West Mercia Police said they had been contacted by several women from Kidderminster who had given their bank details to bogus British soldiers.
One woman reported to police on Tuesday that she thought she was being set up for a scam.
Police have urged people only to use reputable websites.
The woman who contacted police on 4 January said she had become friendly with a man claiming to be a soldier on an internet dating website in November.
She became suspicious when the details the "soldier" had given about himself did not seem to be true.
'Romance scammers'
Pc Lee Halford of West Mercia Police said: "We are keen to make women who use internet dating websites aware of these scams so that they will exercise caution.
"So-called 'romance scammers' will set out to form an on-line relationship over a period of weeks or months and then make a request for money when they feel they have established enough trust.
"They may, for example, ask for cash or a money transfer to pay for a plane ticket, for medical bills or even to set up a telephone link near a military base abroad.
"We would advise anyone using an online dating or chat service to use reputable companies and to follow their recommended safety tips.
"Do not send money, however genuine the request may seem."