Hagley Hall stately home helps after NZ quake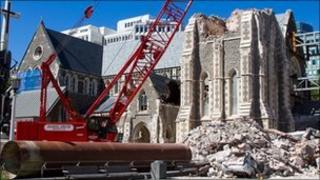 A Worcestershire stately home with links to New Zealand is planning an event to raise money for victims of the recent earthquake in Christchurch.
Lord Cobham, whose father was Governor-General of New Zealand, said Hagley Hall will hold an open day and cricket festival on 10 July.
He is hoping to raise several thousand pounds towards the restoration of a cathedral at Christchurch.
More than 160 people died in the earthquake last month.
'Acorns taken'
Lord Cobham said his great-great-grandfather, George William, Lord Lyttelton, helped people to go to Christchurch in the 19th Century and was chairman of the Canterbury Association, which was founded in 1848.
He said: "They were responsible for the first two ship-loads of 750 people, migrants, to Christchurch, which is why the port of Christchurch was called Lyttelton.
"Indeed at Christchurch you have Hagley Park as well...
"[It] was planted with acorns taken from Hagley Park here."
'Deep connection'
An annual match involving London New Zealand Cricket Club will be the core of the event at Hagley and more details will be announced in the future.
Charles 10th Viscount Cobham was Governor-General of New Zealand from 1957-1962.
Lord Cobham, who was in New Zealand for two years, added: "We have a very deep connection with New Zealand going back to our school days...
"We all empathised very strongly with our friends in New Zealand and how desperate it must be to see so much destruction brought by the earthquake."
The magnitude 6.3 earthquake struck the city on New Zealand's South Island on 22 February.
Prince William will travel to Christchurch during a visit to New Zealand and Australia from 17-21 March.