Exercise Watermark test Droitwich flood defences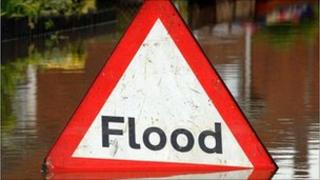 Mock flooding exercises have been taking place in Worcestershire to see how the county would respond to an emergency as part of a UK-wide test.
Exercise Watermark, which has been going on all week, involves thousands of people from the emergency services, councils and utility firms.
Defences were being tested in Droitwich which are triggered automatically by rising water levels.
Worcestershire was badly affected by flooding in 2007.
Last year, permanent flood defences were the given the go ahead in Upton-upon-Severn and 36 properties in Tenbury Wells which are the most vulnerable to flooding were given grants of up to £7,000 so they can install flood defences.
Work started on an £800,000 flood alleviation scheme in Pershore last April after the town was also badly hit by the summer floods in the same year.
As part of Exercise Watermark carried out this week, a series of scenarios across England and Wales have been testing the authorities' ability to co-ordinate.
No maintenance
The last exercises were taking place in Droitwich and at the Thames Barrier on Thursday.
A spokesman for Droitwich-based UK Flood Barriers, whose system - the self -closing flood barrier - is being used in the town, said as the flood risk increases more prevention methods were required.
Sarah Vaughan, managing director said over its lifetime, the system required no maintenance or electric power.
The barriers could be installed along a waterway, in coastal defences, to surround low lying buildings and protect entrances, the firm added.
"The simplicity of the system is key.
"It uses the rising flood water to automatically activate the wall, thus eliminating the need for manual intervention.
"The barrier can span any width - and I am talking miles - and currently rises to a height of 2.5m."