West Mercia officers' attempts to rescue car plunge family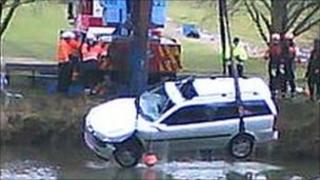 When two West Mercia police officers were called out to a river rescue during a morning briefing at the station, they had little idea of the life-changing events which would follow.
Christopher Grady had driven his car, with his son and daughter inside, into the River Avon in Worcestershire.
Insp Sean Kent and Sgt Phil Stayte took the station's rescue kit and drove to Hampton Ferry. But it soon became clear that it was not an ordinary rescue.
Grady has been found guilty of the murder of his daughter and attempted murder of his son. He told Birmingham Crown Court his ex-partner Kim Smith, 37, the mother of five-year-old Gabrielle and Ryan, then aged six, had been trying to stop him from seeing them.
Forty-two-year-old Grady said he had been taking anti-depressant medication, had been evicted from his flat in Evesham and had financial worries leading up to the incident.
Insp Kent said that when he and his colleague got to the river, the car had already vanished under the water.
"When we looked over the bank, the first thing we saw was a man approximately a third of the way across the river, and in front of him was what looked initially like a bundle of rags," he said.
'Distress and difficulty'
"As I looked across, I could actually see that the bundle of rags was actually a small child.
"While the man seemed to be holding his own and seemed to be treading water, the child was obviously in a great deal of distress and difficulty, barely managing to hold his own above the water and he appeared to be barely conscious as well."
He said police procedure was for officers not to enter the water, but to throw a line out to them and pull them to the bank.
Sgt Stayte said that they managed to get the lines close to Grady and the child, but soon realised something was wrong.
He said: "I think when the lines were deployed and they went within such an easy distance for Grady to reach and there was no attempt, or effort, or willingness to do that, alarm bells began to ring."
After trying to reach the boy from a fisherman's platform in the river, Insp Kent decided to jump in.
"We'd only been on the side of the river for about two minutes, but it became clear that everything we were going to try was not going to work and it was desperately clear that that little boy needed our help," he said.
Insp Kent said he managed to get Ryan to the bank, where paramedics told him it was "touch-and-go" whether he would survive.
He said he still remembered the mixed emotions he felt as he was sitting in a police car, wrapped in a thermal blanket knowing he had helped Ryan, but had been unable to do anything for Gabby, who was still in the submerged car.
"People often ask me what I think of when I think back to this particular day," he said.
"It's an immense feeling of joy that Ryan is doing so well and that we were able to help him on his way, but there's an overriding sadness that we couldn't do the same for Gabby."
Gabby was found in the submerged car and died three days later in hospital.
Sgt Stayte said he still patrolled the area and routinely passed the riverbank where there is now a memorial to Gabby.
Insp Kent said he will never forget the incident.
He said: "I've got 21 years' service this year, this is the incident that's had the most profound effect on me, and I shall remember it always."