Worcester musician hand-picked to perform at LG Arena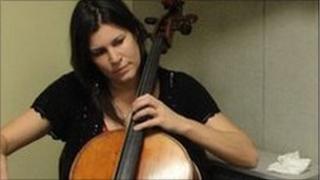 A Worcester musician who usually promotes other people's music has been chosen to perform at Birmingham's LG Arena.
Deborah Hodgson from St Johns will play in the bar ahead of a concert by American star Taylor Swift on Tuesday.
The singer songwriter said it was a really exciting opportunity.
"It's always been a passion of mine and it's wonderful to be doing it full time," she said.
'Love music'
Ms Hodgson, started singing 12 years ago and says she takes inspiration from 1960s folk singers such as Joni Mitchell.
She has recently launched Gilded Fridays, a series of new concerts at Worcester's Guildhall.
"I love music - not just writing, singing, performing and recording but also putting on music acts and helping to promote other people's music," said Ms Hodgson.
The Guildhall was chosen as the venue because she wanted the evening to reflect the inscription found in the building's top floor Assembly Room ceiling that reads "music, poetry, drama and dance".
Ms Hodgson has also worked as part of the media team and helped with the re-branding of the venue from the NEC Arena to the LEG Arena.