Pershore council offices to be powered by solar panels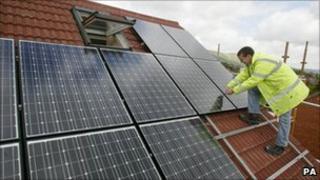 Councillors in Pershore are hoping to install solar panels on the roof of council offices at the Civic Centre to help reduce energy costs.
The 9.9 Kilo Watt Peak (kWp) system will cost £34,000 and save Wychavon District Council about 85 tonnes of carbon emissions over 25 years.
Deputy managing director Vic Allison said it had been a long-term aim.
"We first thought about it two or three years ago but at the time it wasn't financially viable," he said.
"We want to demonstrate that it does work... particularly with the government's Feed In Tariff Scheme which pays us additional money simply for generating our own electricity."
Economic and eco-friendly
The council said it intended to submit a planning application by the middle of April.
If approved, the system will produce a net annual income of about £3,450 and any surplus electricity generated will be sold to the National Grid.
"We expect to consume the vast majority of the electricity we produce here on the site - it's only certain times of the year and certain times of the day we'll be producing more than we need like the summer evenings," said Mr Allison.
If the scheme goes ahead it is hoped that the photovoltaic panels will be fitted over the summer.