Litter fines of up to £80 for smokers in Herefordshire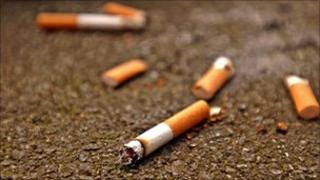 People in the market towns of Herefordshire who drop their cigarette butts could be fined up to £80 for littering.
Herefordshire Council is launching the scheme in Hereford, Kington, Bromyard, Ross, Ledbury and Leominster.
Shane Hancock from the council says they are clamping down.
"Most smokers don't even consider this littering, but cigarette butts are one of the most common items we remove across the county," he said.
Last year the council issued 88 fines for littering and this year's campaign will emphasize the fact that cigarette butts are classed as litter.
No excuses
Mr Hancock said: "We want to remind smokers to be responsible and dispose of their cigarettes properly - it could prove to be an expensive mistake.
"Smokers can easily dispose of their butts in ashtrays or appropriate bins rather than dropping them on the floor or throwing them out of car windows."
The campaign, which is launched on Wednesday, 30 March, will offer smokers free portable ashtrays as an added incentive.
According to Herefordshire Council, about 200 million cigarette butts are thrown away every day in the UK.