Mott the Hoople return to Hereford for film premiere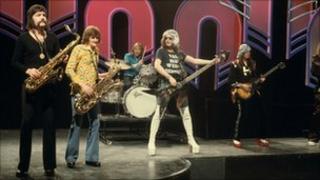 Members of Mott the Hoople have returned to their home city of Hereford for the premiere of a film about the band.
The rock documentary about the glamrock legends has opened at the Borderlines Film Festival.
The band's keyboard player, Verden Allan, said he was thinking of moving back to the area where he grew up.
"My heart is in Hereford, it's just a question of uprooting and making my way up here," he said.
Allan has already seen the film and said it was a good summary of the band's colourful history.
"It's a good representation of the band, it's a good story for people to see, and it starts off right in the beginning in Hereford and goes right through," he said.
Members of the band will be taking questions from the audience after the premiere at The Courtyard in Hereford.
Mott the Hoople reformed in 2009 for five concerts at the Hammersmith Apollo in London.
This year's Borderlines Film Festival includes more than 80 films, 226 screenings showing at 41 venues across Herefordshire, Shropshire and the Marches.
The event, which is in its ninth year, runs from Friday, 25 March to Saturday, 9 April.