Worcester's street pastors planning extra patrol nights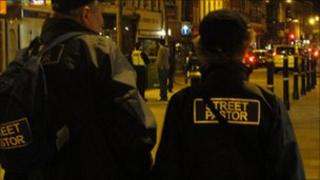 Street pastors in Worcester are putting plans in place to go out on patrol two nights each week, not just Saturdays.
The team is in the process of training up another bank of volunteers which means there will be enough resources to expand the scheme.
Archdeacon of Worcester Roger Morris said the city was busy enough to warrant the extra presence.
"Worcester has a vibrant night-time economy on more than just Saturday - we want to keep an eye on that," he said.
"With the growth of the city as a university city, there'll be a number of nights when students are going out and we just want to make the place safe for them and take care of them," said Mr Morris.
'Welcome addition'
The street pastors scheme was launched in the city with a team of 16 volunteers who work in teams of four each weekend.
Since then volunteer numbers have reached the stage where the management committee can safely dispatch two teams per week.
"We now need to work out if we go out Fridays or one that the students have as their major night out - we need to work out what's the best, most effective use of us for that second night," said Mr Morris.
He also said the addition of the street pastors had been welcomed by people going to the pubs and clubs as well as the network of police and door staff that operate on a Saturday night.
He said: "It's been really encouraging - the big positive is the warmth of the reception we've had, they've been really gracious and said lots of positive things about what we're doing."