Footage of Herefordshire's last hop-pickers by hand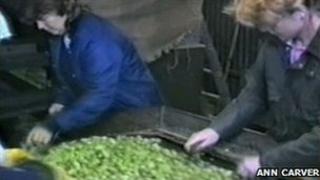 Unseen footage of how hops were picked by hand will be shown at Bromyard's first ever Hop Festival.
Ann Carver, 70, from Cradley, started filming as a child on her father's hop farm at Burghill in Herefordshire.
"It's part of Herefordshire life - hop-picking is very much a Herefordshire thing," she said.
Ann's family - the Hoddells - was one of the last to pick hops by hand at the time.
Hop Picking Through the Ages consists of more than one hour of footage taken by Ms Carver during the 1950s and the 1970s.
"I'm a real farmer's daughter and I thought it would be nice to record these things," she said.
"I started off by recording our old dryer, who use to dry our hops, and then I got encouraged by this and went on to record the different stages of hop picking - it certainly changed from picking by hand to picking by machine."
The film also includes 90 seconds of footage filmed by Television Wales and the West.
Mrs Carver said many people in the area would have memories of hop-picking.
She said: "It's important to an agricultural area like Bromyard and this is a film people will find fascinating."
Paid in tokens
A hop-pickers' day started early, with the foreman blowing a whistle at seven in the morning, when it is easier to harvest the crop.
Pickers were payed by the amount they harvested in a day, and the fastest pickers were given the choice of where in the field they worked.
John Rudge, who still farms hops in Bishop's Frome, Herefordshire, said the pickers were not paid in cash, but used various kinds of tokens.
"The farmers paid in tokens, and the local pubs and shops accepted these, and then at the end of the season they settled up - it was a way of keeping the money in the village."
The kinds of tokens used included wooden "tallies" which were designed to stop cheating.
These were about 40cm (30in) long and split into two halves. They would only fit together a certain way and the worker would be given one and the foreman would keep the other end.
Mr Rudge said that the payment by token system lasted until the outbreak of World War II.
In the 1950s hop-picking machines began to be introduced, and the number of pickers coming to Herefordshire declined.
The film will be played throughout the day at The Conquest Theatre on Saturday, 3 September.