Ledbury Baptist church appeal over mystery grave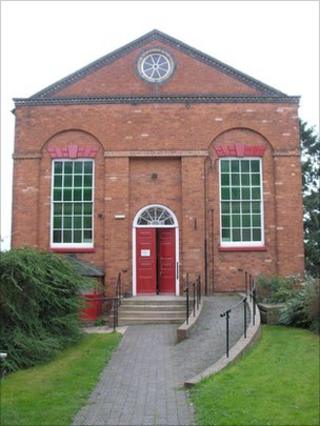 A Herefordshire church is trying to find out more about the person who is buried in a grave next to the entrance.
Ledbury Baptist church is undergoing a major refurbishment and is putting together a history for their re-opening.
The grave is that of Matilda Edwards, wife of James Dando Trehernt.
Church records give no clue as to who she was, but they are hoping someone might know Matilda's story.
Gill Blows, the church secretary, said there were many questions that needed answering about the memorial.
She said: "Why was she buried there? Why does she have a different name to that of her husband? At the moment all we know is that it is Matilda's grave but we feel there must be a story there."
Refurbished
Ledbury Baptist Church dates back to 1836 and was founded by a local aristocrat, Baron Teynham.
The inside of the listed building has had to be extensively refurbished after part of the ceiling collapsed.
A history of the church is being compiled, in time for the re-opening in the summer of 2011.