Archbishop of Canterbury opens Mucknell Abbey church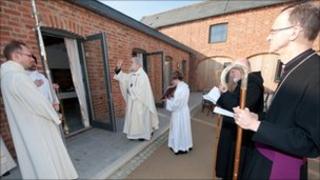 A new church at Mucknell Abbey near Stoulton has been dedicated by the Archbishop of Canterbury.
Dr Rowan Williams visited the Abbey where a Benedictine community has recently moved from Burford.
The Abbey, formerly Mucknell Farm, was renovated using locally sourced materials.
Dr Williams said: "In a way typical of the best of monastic life, the building has been designed with environmental concerns in mind.
"The life of contemplation and labour that is at the heart of all Benedictine communities requires a loving care for the world around, and this community shows what that means."
'Environmental concerns'
The community of 11 men and women has been living in temporary accommodation at Broad Marston near Evesham since 2008 while the Abbey has been renovated.
According to the Diocese of Worcester, the floor of the church uses flagstones made from recycled glass and tyres, and the Abbey is heated by a woodchip boiler burning fuel using local timber.
Abbot Stuart added: "We have a lovely new building. Now we are setting about developing the 40 acres of land in a way which will model that loving care for the world.
"Already we have planted an orchard and several thousand trees as part of the restoration of Feckenham Forest, and have begun work on our own large kitchen garden."
The community, which was founded in 1941, is part of the Church of England and moved to Mucknell Abbey in November 2010 after 60 years at Burford.