School becomes first primary academy in Herefordshire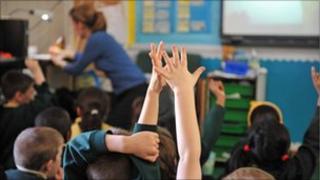 A school near Ledbury is the first primary in Herefordshire to be given academy status.
Headteacher Chris Bandfield said having control of the budget would benefit Ashperton Primary School.
"We've got a very exciting 10-year plan to improve our buildings and our classrooms, and other provisions for children, in terms of an all-weather pitch," he said
The school has 165 children on their roll, aged from four up to 11.
Parts of the school date back to the 19th century and some new classrooms were built in 1989 and 2008.
Academies are funded directly by the government and not via the local authority, giving them more freedom over their finances, the curriculum, and teachers' pay and conditions.