A Malvern vicar and one-time musician makes a comeback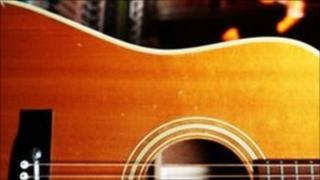 A Malvern vicar who was once an award-winning singer/songwriter is making a comeback for charity.
The Reverend Jon Morgan released five albums in the 1970s before giving up music after his ordination.
He is playing the charity gig to help another musician.
"There's a traditional folk singer, Sam Walter, and we're raising money for his charity project to get him to India, and my good friend Andrew Webb said 'Why don't you play a set?'," he said.
New material
Jon classically trained as a pianist before turning to the acoustic guitar and song writing and recording.
"I grew my hair, picked up a guitar, and studied it as I had done the piano before - I became an acoustic guitarist and it was natural to add song lyrics to them," he added.
He was named amongst the top 50 acoustic guitarists in the country in 1978, according to Folk News International.
His first album, Homecoming, was a classical folk narrated work telling the story of the adventures of Odysseus.
He is now planning to re-release his old albums and record some new material.
The gig is at Holly Mount URC church, Malvern on Saturday, 16 April, at 1730 BST.