Wychavon dog walkers urged to report crime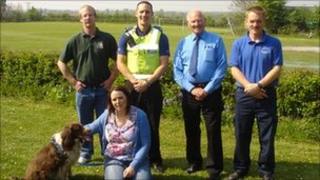 Police in Worcestershire have teamed up with more dog walkers to provide them with "extra eyes and ears".
Wychavon DogWalkerWatch launched in the Pershore Rural North area last year.
This week it was extended to cover Eckington and the town of Pershore and it will be rolled out across the Wychavon area over the next few months.
Members are encouraged to report any crime, suspicious activity, or anti-social behaviour they come across while out walking their dogs.
Scheme members receive a goody bag and crime prevention advice.
Police Community Support Officer Simon Williams said: "It is great to see that already people are keen to join DogWalkerWatch and get involved in keeping their community safe.
"The objective is to provide extra eyes and ears across Wychavon and the surrounding areas."
He explained that members are asked to alert police to any issues discovered on their usual walking route.
DogWalkerWatch co-ordinator for the area Liz Roffey said: "This is a great scheme as people with dogs tend to walk similar routes at various times of the day and are likely to notice things that are not quite right."