Herefordshire company produces virtual history of Oman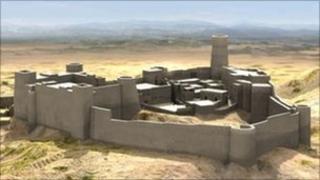 Archaeological sites in Oman are to be brought to life by a Herefordshire company using computer games technology.
The Virtual Experience Company, in Storridge, will make an animated film of the nation's history.
Director Mike Gogan said: "What we are aiming for is what we call 'photo-realistic virtual reality'."
The film will be projected on to a hillside from a specially-constructed amphitheatre.
"If you can imagine a flat area which is surrounded by hills which are up to 50m (160ft) high, what we're going to do is to cut terracing for seating into one side of this amphitheatre, and on the other side, 200m (650ft) away, we will project the movie, on to the side of the hill," he said.
The firm will be working with the Royal Court in Oman in a project they say could be worth more than £1m.
Oman has hundreds of ancient forts and the remains of ancient settlements, dating back to the Stone Age, can be found across the country.
The company has already produced a 3D animation of the Bahla Fort in Oman, which is a World Heritage site.