Worcestershire wetlands flooded after dry spell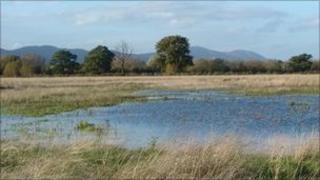 Reservoir water has been used to flood wetlands after the recent dry spell.
Worcestershire Wildlife Trust has flooded their 120 hectare (300 acre) site near Upton-upon-Severn.
Rob Allen, from the trust, says there are few other natural wetlands left for wading birds to use.
"That habitat has largely gone, which is what makes it all the more crucial that we have reserves like this dotted around to give them somewhere as a refuge," he said.
Mr Allen said the trust had noticed the effects of climate change in the area.
"If you look at lapwings we've had an 80% decline in their numbers since the 1960s, so anything that's going to produce a change in their habits and reduce their chance of breeding success is a bad thing," he said.
Hill Court Farm and the Blacklands, known as the Andrew Fraser Reserve, is the biggest single conservation project the trust has attempted.
It is aiming to create one of the largest wetlands in the county there.