Warning of fire risk near Malvern Hills after dry spell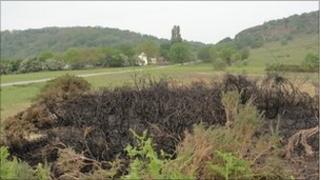 People are being asked to take extra care after two fires near the Malvern Hills.
The fire service says the hills and grassland areas are at greater risk of catching fire in the long dry spell.
Grant Will, of Hereford & Worcester Fire and Rescue Service, said there had been more fires this year.
"In comparison to January to April last year we're looking at an increase of around 50% for calls to grass and heathland fires," he said.
He warned that the fires could be very dangerous: "It's very important to remember that grass fires and gorse fires can travel at an amazing speed and people can get caught out."
Chinese lanterns
Ian Rowatt, from the Malvern Hills Conservators, said the fire service had dealt with fires on Castlemorton Common and at the Wyche Cutting.
"This costs us all money every time they have to go out, so although they are superb at responding, I'd much rather they didn't have to," he said.
He said barbecues and discarded cigarettes were not the only things that could cause fires.
"One of my volunteers was clearing up litter and he came across these Chinese lanterns, these things that float in the sky and look very dramatic against the hills.
"I would urge people not to use those because they are propelled by fire and if they do land before they've gone out they will set the hills on fire," he said
He said the Conservators could not cut back gorse and bracken at this time because they were breeding grounds for birds and butterflies.