Remembering life in Worcester's Asian community in 1986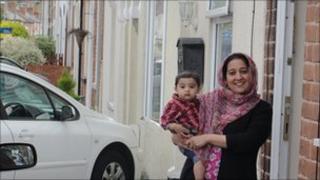 A Worcester woman has been looking back at life 25 years ago when she took part in the BBC's Domesday project.
Zabina Khan, 36, was 10 years old when she wrote about her family relocating from Pakistan to England.
She was one of a group of pupils at St Georges C of E Primary School in Barbourne, Worcester who contributed.
"It's quite funny reading what I wrote because I remember nagging my dad about the dates - they're all quite specific," she said.
In 1986 the BBC produced a digital archive of Britain with information and photos of places with the help of volunteers.
It was all burnt onto laser disc, a format which quickly became obsolete so the data was lost.
It is now being put back on the web and people are being asked to help update it.
'Understanding of multiculturalism'
Mrs Khan, who still lives on Chestnut Street in Worcester with her husband and three children, said the Asian community was much smaller back then
She said: "It used to be quite hard, if we went to a park on our own we used to get a lot of bullying and a lot of racism - you'd get people calling you names."
Her father ran a shop on Chestnut Street which has since been converted back to a residential home where he still lives with Zabina's mother.
But Mrs Khan also has positive memories of growing up in Worcester.
She said: "The one thing I do remember is I loved school, people used to say: 'I know you'll be a teacher'."
Mrs Khan is now a teaching assistant at Fort Royal Community Primary School and said members of the Asian community are more widely accepted.
She said: "It's very different to how it was - people understand multiculturalism a lot more than they did back then."
To get involved with Domesday Reloaded click here.