Concerns over 'lowest' levels in the river Wye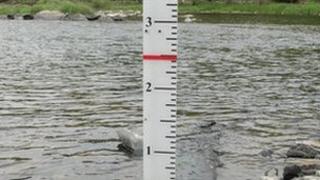 Members of a Herefordshire conservation group are concerned the recent lack of rain could have a serious impact farming, wildlife and tourism.
Water levels in the River Wye are lower than the drought years of 1976 and 1984, according to the Wye and Usk Foundation.
Dr Stephen Marsh-Smith said April was the driest spring month for 350 years.
"We've already found a couple of dead salmon at Hereford - unless we get rain it's going to be desperate," he said.
Dr Marsh-Smith said as the water temperatures get higher, oxygen is removed from the river and fish become distressed.
According to the foundation, river level gauges at this time of year should show between 2ft and 3ft but they are at 2in.
Dr Marsh-Smith said dry spring months in 2007, 2009 and 2010 mean the river levels have been steadily decreasing.
He said: "The result is we don't have the reserve of water to keep our rivers going through difficult periods.
"There's not much you can do about drought - you can restrict water uptake but there's nothing you can do to make more water and if you're trying to manage a river it's a disaster"