Pershore tribute to last WWI veteran Claude Choules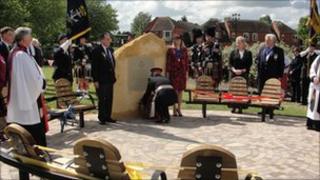 Tributes have been paid in Pershore to Claude Choules, the last veteran of World War I, who was born in the town.
He died last week, aged 110, and he was honoured at the opening of an armed forces memorial garden.
Two wreaths were laid, including one by the Lord Lieutenant of Worcestershire, Michael Brinton.
He said: "We should all remember the sacrifices of people who fought in the wars and Claude is the last of those from the First World War."
The Pershore Royal Naval Association (RNA) has raised £8,500 over the last six years for the garden in Abbey Park, opposite Pershore Abbey.
It was the idea of Ted Annis, chairman of Pershore RNA, who said the town needed somewhere to mark the contribution of servicemen from the past, present and future.
Mr Annis said: "The lads these days have got nothing so I thought: 'Get something for them' where people can come, sit, lay a wreath if they want to."
The town's mayor, Chris Parsons, also laid a wreath at the memorial which was opened on Sunday, the 66th anniversary of VE Day.
The Pershore branch of the RNA wanted to use the opportunity to remember Mr Choules, following his death at a nursing home in Australia earlier in the month.
Mr Annis said: "He's always been well-known round here - he served in both world wars, he told a lie to get into the first war about his age.
"He's a part of Pershore."