Basil D'Oliveira coins taken from Worcestershire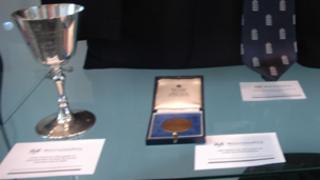 Memorabilia belonging to former England cricketer Basil D'Oliveira have been stolen from Worcestershire's ground.
Two man-of-the-match gold coins and a silver goblet, which he had loaned to the club, were taken from New Road.
The items, which disappeared between 21 April and 5 May, were "very distinctive", police said.
The all-rounder, who played for Worcestershire between 1964 and 1980, played 44 Tests after coming to England from his native South Africa.
Apartheid issue
He also played in four one-day internationals.
D'Oliveira's name will be forever linked with the apartheid issue which resulted in South Africa being exiled from international cricket for more than 20 years.
He was included in England's 1968-69 tour, but it was cancelled after the South African government indicated he would not be welcome.
The gold coins in presentation cases were stolen from a cabinet in the foyer of the Graeme Hick pavilion at New Road.
A silver goblet, 8in (20cm) tall, along with a presentation card to D'Oliveira in 1964, were also taken.
A police spokeswoman said: "The items stolen mean a lot to everyone at the cricket club and obviously the D'Oliveira family.
"They are very distinctive and may turn up for sale somewhere in the next few weeks."
D'Oliveira spent his entire first-class career at New Road, scoring almost 19,000 first-class runs and taking 548 wickets.
In 2003 it was announced a stand at the ground would be named in his honour.