Official opening of £41m University of Worcester campus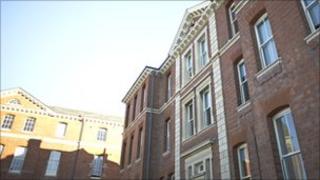 A £41m campus which includes the site of a former hospital has been officially opened at the University of Worcester.
The Duke of Gloucester unveiled a plaque at the City Campus, which includes two halls of residence.
The former Worcester Royal Infirmary was restored and opened as educational facilities in September 2010.
The university and the county council are building a new library, which is due to open in 2012, in a £60m scheme.
The main infirmary building includes teaching spaces, computer labs, conference facilities, a health and wellbeing centre and a chapel.
It has been named after Sir Charles Hastings, a founder of the British Medical Association.
From later this year the building will host a permanent exhibition and educational centre celebrating Worcester's medical past.
Mulberry House, which is next to The Charles Hastings Building and once served as a doctors' residence, was also restored and opened in September 2010.
The two halls of residence for students opened in September 2009.
The new library will be next to the City Campus, which cost about £41m.
St John's, the university's other campus, dates back to 1946.