Clodock mill restored ready for national mills weekend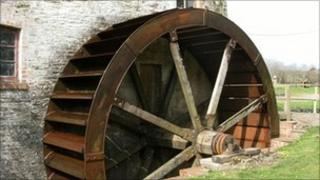 A 13th Century Herefordshire mill will be grinding corn for the first time in more than 60 years.
Clodock Mill near Longtown has been restored by its owners Jill and Martin Cook, who have lived there for 10 years.
Mr Cook said they are opening it up to the public this weekend and hope to make it a regular event.
"We're not looking to run the mill commercially but we would like to open it up several times a year for charity events," he said.
The couple say there is documentary evidence that the mill has been on site since 1241.
The 18ft (5.5m) cast iron and oak waterwheel has had to be be replaced.
Mr Cook said: "We've done most of the renovation work ourselves but for actually connecting up the wheel we've had to bring in a professional millwright."
Mr Cook said they eventually hope to grind their own flour but will be using corn for the open weekend.
It is one of 17 mills in Herefordshire and 1 in Worcestershire that will be open as part of national mills weekend .
It will be open on Saturday and Sunday to raise money for the Air Ambulance.
The couple bought the mill 10 years ago after an interest in traditional wind mills.
Mr Cook said: "I used to work for a turbine company for 10 years and when we saw this we thought 'this is just a windmill working upside down'.
"We had a fair idea of how to run it."