Emily Jordan's boyfriend describes her New Zealand river death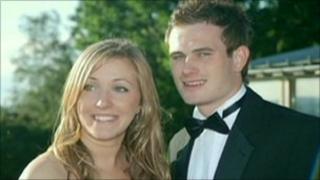 The boyfriend of a backpacker who drowned while river boarding in New Zealand in 2008 has described events leading to her death at an inquest.
Emily Jordan, who was 21, and from Trimpley, in Worcestershire, drowned when she became wedged under a rock.
Jonathan Armour, who was also river boarding said his girlfriend was struggling to stay on the board despite being a strong swimmer.
It took 20 minutes to release her as no rope was available, the inquest heard.
The river boarding party had been told to steer to the right of a rock, but Miss Jordan was drifting to the left and at one point Mr Armour said he could only see her arm sticking out of the water.
'Health and safety breaches'
The Swansea university graduate died in the Kawarau River near Queenstown.
She was was travelling with Mr Armour in New Zealand when the pair signed up for the Mad Dog River Boarding activity.
The company failed to carry any ropes and has previously admitted two health and safety charges.
It was fined NZ$66,000 (£27,600) and ordered to pay £33,500 to Miss Jordan's family in compensation.
The inquest was told on Monday that from October, New Zealand authorities would order all river boarding companies to be registered.
The news comes after an Adventure tourism safety review carried out in the country last year, recommended that all firms register for external safety audits and said industry-wide safety practices should be developed.
The inquest in Smethwick in the West Midlands continues.