Misadventure verdict over New Zealand river board death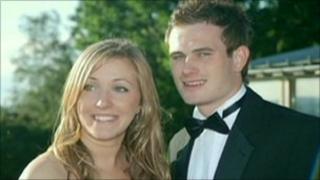 A verdict of death by misadventure has been returned at the inquest of a backpacker who died while river boarding in New Zealand.
Emily Jordan, 21, from Trimpley, Worcestershire, drowned when she became wedged under a rock.
The jury cited factors including lack of equipment and unsuitable life jackets as contributing to her death near Queenstown, South Island in 2008.
The river boarding company has admitted two health and safety charges.
Miss Jordan was travelling with her boyfriend Jonathan Armour in April 2008 when the pair signed up for the Mad Dog River Boarding activity.
It offered the chance to take part in the sport of river boarding - where participants hold on to a board and float down a river.
However, Miss Jordan became separated from a group and got into difficulties near the rock in the Kawarau River.
It took 20 minutes to release her as no rope was available, the inquest heard.
The inquest jury in Smethwick was directed by coroner Robin Balmain to return a misadventure verdict.
But he also asked them to record the main factors in the death as part of a narrative to go along with the verdict.
The jury ruled "information and instruction were not given to clients that clearly represented the true risk and danger of river boarding".
Missing equipment
Other factors included inadequate training of lifeguards, unsuitable life jackets and a rescue craft was not available.
Missing equipment included rope, a whistle and a knife, the jury said.
The inquest was told on Monday that from October, New Zealand authorities would order all river boarding companies to be registered.
Mad Dog River Boarding has been fined NZ$66,000 (£27,600) and ordered to pay £33,500 to Miss Jordan's family in compensation after admitting health and safety charges.