River Lugg and River Arrow cleared of rubbish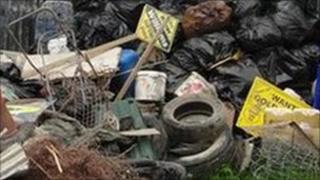 Volunteers have cleared 50 tonnes of rubbish from rivers in Herefordshire.
During the 10-week campaign, litter was cleared from 100 miles (160km) of the River Lugg and the River Arrow.
Farmer Tony Norman, from Pembridge, who had the idea for the clean-up, said: "It saddens me that so much of the litter is coming from farming."
The litter removed included tyres, feed buckets, chairs, beds, a saddle, a children's swimming pool and a surf board.
Mr Norman believes that changing farming practices has led to an increase in the amount of litter.
"I think with the advent of silage wrap and black plastic we are inevitably seeing the results in the river," he said.
More than 200 people took part in the clear-up, including conservation organisations, government bodies, fishing clubs, canoe groups and local councils.
At a separate site, Powys County Council removed 30 tonnes of rubbish from a Highways Agency depot on the banks of the Lugg at Presteigne, most of which would eventually have been washed downstream.
Measures have now been taken to prevent the site being used as a tip in the future.