Cuckoo decline investigated in North Worcestershire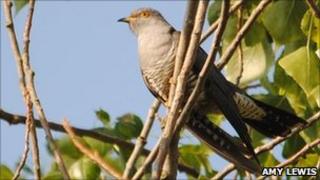 Cuckoo populations in North Worcestershire are being investigated by a wildlife group.
The recent decline in numbers means the cuckoo is now on the Red List of endangered birds in Britain.
The first film showing a cuckoo laying its egg in another bird's nest was made in the 1920s in the Wyre Forest.
Ninety years later, Wyre Forest Study Group wants to find out how many cuckoos are still in the area.
Rosemary Winnall, from the Wyre Forest Study Group, said it was not clear why the number of cuckoos in this country was falling, but droughts in Africa and a decline in insect numbers in the UK could be contributory factors.
"We are asking people who live in the area, or visitors out walking and enjoying the Wyre Forest, to listen out for the sound of the cuckoo and make a note of the location where they hear it," she said.
Archive film
The information will be gathered before the end of July, and will be kept in the newly-created records room at the Wyre Forest Discovery Centre, at the Callow Hill Visitor Centre.
In 1920s, Edgar Chance, an industrialist and amateur ornithologist, spent five years studying cuckoos on Pound Green Common.
As well as publishing a book called The Cuckoo's Secret in 1922, he paid for a film to be made by a professional film-maker called Oliver Pyke.
This captured for the first time a cuckoo laying its egg in another bird's nest.
The 20-minute film was shown in cinemas across the country, and a copy is now kept in the National Film Archive.
An exhibition on the cuckoo and the work of Edgar Chance will be staged at Bewdley Museum over the summer.