Pershore Abbey hosts two recordings of Songs of Praise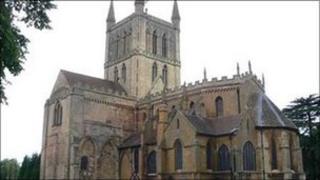 Two services for the BBC's Songs of Praise are being recorded at Pershore Abbey, Worcestershire.
The recordings take place on Wednesday, 8 June and Thursday, 9 June.
Songs of Praise was first broadcast from the abbey in 1962 and producer Karen Hannah wants to hear from anyone who took part.
"If anyone had actually been a member of that congregation then we're always looking for people to interview," she said.
The 1000-year-old church also hosted the programme in 1967 and in 1994.
The first programme recorded will centre on the abbey itself, and the second will have a harvest theme.
The services will be transmitted in July and September - information on how to get tickets or join the combined choir is available on the Songs of Praise website.