Whitney-on-Wye bridge for sale with tax-free income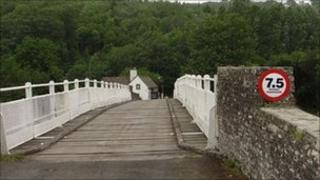 A Herefordshire toll bridge that offers the buyer a tax-free income is up for sale for £450,000.
The Whitney-on-Wye bridge was built in 1797 by an Act of Parliament that also exempts the toll income from tax.
The firm selling the bridge said the owner can expect to make £2000-a-week from the 80p toll.
Local resident Mal Hagan said: "From our point of view it's affordable now and if it stays that way we'll be really happy."
The Department of Transport has to approve any rise in tolls - the last review was in 2009, when they were increased from 50p.
Paying the 80p toll allows drivers to cross the bridge for the whole of that day.
The new owner will be responsible for maintaining the bridge, which was virtually rebuilt in 1993.
Included in the sale is the listed toll house and the fishing rights to a stretch of the River Wye.
The bridge is for sale following the death of its owner.