Device made in Worcestershire measures ash plume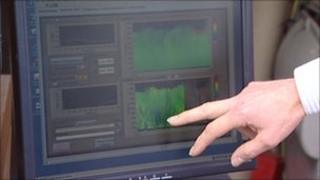 Scientists in Worcestershire have developed an instrument to measure the ash plume from the volcanic eruption in Iceland.
It is described as a remote sensing device which measures what is going on in the atmosphere above.
Data detailing the size, density and direction of the plume can then be measured, developer Guy Pearson said.
The instrument is positioned in Reykjavik, about 300 km (186 miles) from the volcano.
Halo Phototonics, based in Brockamin, makes meteorological instruments for testing the weather and is working in collaboration with Icelandic and British meteorological services.
'Strength of plume'
Explaining the device, Mr Pearson said: "Out of a small aperture are transmitted very short laser pulses which are then propagated into the sky and then are back scattered (reflected) by the dust, ash plumes or clouds in the atmosphere.
"From that information we can then measure what's going on above us."
The information is processed in real time, he said.
"So you can measure the plume, you can measure the strength of the plume, the density of the plume and you can measure where it's going because you can measure the wind."
Thousands of passengers have had their flights cancelled because of drifting ash from an Icelandic volcano.
Londonderry, Glasgow, Edinburgh, Prestwick, Durham Tees Valley, Newcastle and Carlisle, are affected, air traffic services company Nats said.
European air traffic controllers said up to 500 flights could be cancelled on Tuesday.