West Midlands Safari Park considers new railway station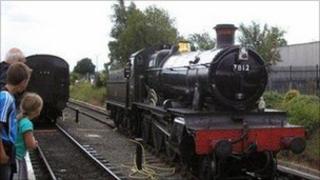 The West Midlands Safari Park could get its own steam railway station.
Managers at the park, near Bewdley, have been in discussion with Severn Valley Railway (SVR) about a new station to bring visitors to the site.
The safari park has been planning to build a conference centre, water park and hotel for about five years.
The SVR line, which runs between Bridgnorth and Kidderminster, passes the southern boundary of the park.
The steam railway, which attracted 250,000 visitors last year, already has a station in Bewdley.
Both organisations said talks were at a very early stage, but SVR said it was "not against the idea".
The safari park said a new £18m hotel and water park would allow it to stay open throughout the year and increase visitor numbers.