Hereford art project asks people to fill milk bottles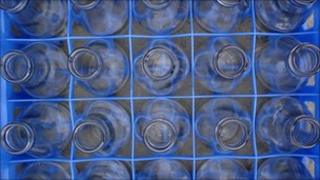 People living in Hereford are being asked to fill milk bottles with something that represents them and their life.
It is part of a community project being launched by art360 which uses a gallery on Bridge Street.
Co-director Annabelle Elletson said it was the biggest community project the charity had attempted so far.
She said: "We would normally ask up to 200 people but we're giving out 2,000 bottles.
"We wanted something that would involve a huge number of people and a project that everyone could join in with."
She said they chose milk bottles because people of all ages could take part.
"There are no limitations like skills, ability, or finance and there's no reason why anybody can't get involved."
Organisers hope the project will be finished by the end of June.
Mrs Elletson said: "We're hoping to photograph them in different contexts throughout Hereford to make a book and then put them on display in October."