Worcester magistrate reflects on 41 years on the bench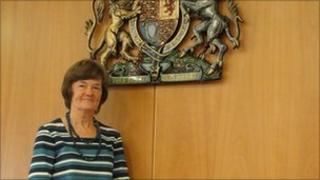 Belinda Whitehead from Worcester was just 27 when she was sworn in to become a magistrate in July 1970.
According to the Worcestershire branch of the Magistrates' Association, Mrs Whitehead is now the county's longest-serving Justice of the Peace.
Mrs Whitehead said people were quite surprised in her early days to see someone so young sitting on the bench.
She said: "It was a great privilege to have been asked, I found it very interesting right from the start."
Mrs Whitehead worked in her family's business, St George's Laundry and Dry Cleaners in Worcester, when she first became a magistrate and said the flexibility that provided was a great help.
"As long as the staff that I was responsible for were all there I was obviously able to come in and do my court sittings and catch up on things in the evenings," she said.
Trouser suits
Mrs Whitehead, 68, said she has been witness to many changes while sitting on the bench for south Worcestershire.
She said: "We started off in a building in Worcester which has now been taken over the by the College of Technology - that was an amazing courtroom, courtroom one, with a high platform and enormous carved chairs.
"We've now got this new building on Castle Street with all the different courts - we need the extra rooms because of all the courts that have closed around the county.
"When I first joined I had to buy a hat for the swearing in ceremony, I thought that was very elegant.
"I bought it in Worcester, it was black with gold and silver trimmed braid round the side of it - the ladies all wore hats."
Eventually Mrs Whitehead and the other female magistrates asked that they be allowed not to wear hats.
"There was also the great revolution of trouser suits - I can remember great discussions about whether we'd be allowed to wear trouser suits or not," she said.
'Great privilege'
Mrs Whitehead said her years as a magistrate had given her a huge amount of knowledge of the legal system as well as a valuable insight into society.
"You get the chance to put something back into the community, you find out what's going on around you rather than just being isolated," she said.
"You make friends with the other magistrates as well like going to the theatre, cricket matches, golf tournaments and the annual Magistrates Association dinner."
By law magistrates have to step down at the age of 70, meaning Mrs Whitehead will have to retire from her role in 2013.
She said she will be sad to finish.
"It's been a great privilege to be a magistrate and you just hope the decisions that you come to are fair.
"That's the most important reason you're there - to adjudicate upon each case and make sure the defendant has the right sentence."