Worcestershire Acute Hospitals NHS Trust boss John Rostill retires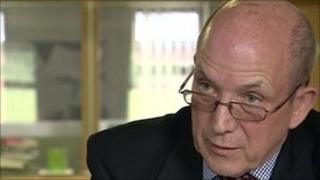 The chief executive of Worcestershire Acute Hospitals NHS Trust which was criticised for elderly care at one of its hospitals is to retire.
John Rostill has spent eight years in charge of Alexandra, Kidderminster and Worcestershire Royal Hospitals.
Last month, the Care Quality Commission (CQC) said patients at the Alexandra Hospital in Redditch were unable to get water and were at risk of malnutrition.
But the trust said this was not the reason for his departure.
Mr Rostill, 64, will leave in July, the trust said.
'Tackled problems'
Harry Turner, from the trust, said: "John has been considering his retirement plans for some time and these considerations have been guided by the various stages of our application to be a Foundation Trust.
"Given our decision at the end of last week to further delay our Foundation Trust reactivation until April 2012, John has decided that now is the right time for him to announce his retirement.
"We know that this will inevitably be linked to the recent CQC report but I would like to put on record that this has not been the catalyst for John's decision."
The CQC, which carried out unannounced inspections, said that the way patients' food and drinks needs were met was a "major concern".
Last week, the trust said it would conduct an independent review into how it looks after elderly patients after the report.
The trust has also said it had already begun to tackle the problems highlighted.