Worcester Cathedral revamped water gate used in wedding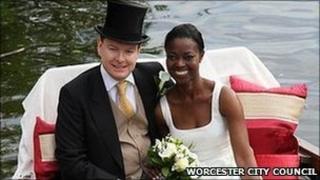 An ancient water gate has been used in a wedding ceremony for the first time since it was refurbished.
William Spalding and Vesta Okyere-Yeboah used the water gate at Worcester Cathedral to get into a boat after their wedding.
This took them to their reception on the other bank of the River Severn at Worcestershire County Cricket Club.
The water gate dates from 1378 and gave access to the cathedral's monastic precinct.
In medieval times the river was tidal, and the water gate would flood twice a day, creating a small dock where boats could unload.
Marks on the stone also show the high water level of every flood on the river since 1672.
The work on the water gate was part of a larger project refurbishing the riverside around the cathedral.