Battle of Worcester becomes theme for new play park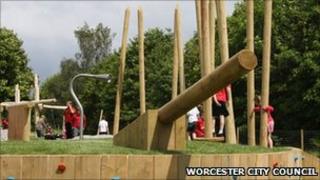 The last battle in the English Civil War has been commemorated in a new play park near the site.
Cromwell's army crossed the River Severn on a bridge of boats to fight in the Battle of Worcester in 1651.
The area where his army gathered is now a housing estate, and the new play park there includes mounds to represent the boats, and wooden pikes and cannons.
David Tibbut, Mayor of Worcester, said: "It's more than a play area - it's a history lesson too."
The only memorial on the battlefield is a plaque at Powick Bridge, which was defended by the army of King Charles II.
The Battle of Worcester Society are commemorating the 360th anniversary of the battle with a week of events in September including two re-enactments.